26 04 2022
Updates from the Run4Life project
Thermophilic anaerobic digestion: a promising technology for safe nutrient recovery from concentrated blackwater.
In April, Merijn Moerland successfully defended his PhD thesis at Wageningen University & Research, the research being an integral part of the Run4Life project. The technology was implemented at the Sneek demo-site. His topic was 'thermophilic and hyper-thermophilic anaerobic digestion as novel treatment technologies for safe nutrient recovery from concentrated blackwater'. During the defence there were nice discussions on (H)TAD process performance, the risks related to pathogens, and the different products that could be recovered. Before defending, Merijn's final chapter – on micropollutants removal – was published: read the paper here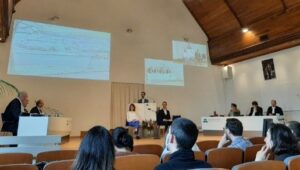 Workshop on Nutrient recovery from decentralised operations
Run4Life and REWAISE projects co-organised the workshop "Nutrient recovery from decentralised operations" at the IWA WWRR conference. This workshop gave the opportunity of sharing project results related to the quality and properties of the Run4Life recovered fertiliser products. During the project, the product composition was assessed and  agronomic properties were evaluated in pot and field tests. At the workshop, results from Run4Life and other related evaluations were presented and discussed, together with end-user's perspectives from fertiliser companies and other related stakeholders. Challenges and opportunities were discussed with the audience.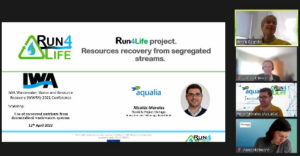 Demo-site Helsingborg is nominated for the 2022 Global Water Awards
We are happy and proud to announce that Run4Life demo-site Helsingborg (the Oceanhamnen district and RecoLab) has been nominated for the 2022 Global Water Awards in the category Wastewater Project of the Year. This nomination recognises projects 'that show the greatest innovation in terms of optimising its physical or environmental footprint'. Furthermore, Run4Life project coordinator Aqualia is on two of the other GWA2022 shortlists: Water Company of the Year & Net Zero Carbon Champion. A great achievement! The winners of the 2022 Global Water Awards will be announced at the Global Water Summit on May 17th.
More activities
In the past few months, Run4Life was presented at several other conferences such as the Ecocity World Summit and Circular@WUR. Finally, the Junior science activity developed within Run4Life, was held twice by project partner LeAF in the Netherlands. Once at for 10-year old children at a primary school and a second time for Bachelor of Education students, to inspire them to incorporate this or other science activities in their educational programmes when they are primary school teachers.