26 04 2022
An open innovation test-bed for the development of bio-based nanomaterials
The complexity of development steps of these alternatives, so called biomaterials must not be underestimated: these substances must offer functional properties for high-volume applications and need to perform even better in order to drive their adoption by industry and end users. Also prize is a relevant parameter – currently, fossil-based materials are still cheaper than their bio-based counterparts.
A development hotbed for new bio-based nanoproducts
The Bionanopolys project is a European project funded under the H2020 program that aims to provide biomaterials with desired properties and accelerate market entry through efficient support services. For this purpose, 14 pilot plants are available for different tests, which are complemented by a broad variety of services (e.g. LCA, safety assessment, IPR management, patent research etc). From the extraction of suitable compounds from lignocellulosic raw materials to the production of bionanocomposites and the development of new nanomaterials, the Bionanopolys open innovation test-bed offers a range of opportunities for SMEs, industrial companies and also research groups to drive their innovations in the bionanomaterial sector. Possible application areas include, for example, the packaging, textile, agriculture, cosmetics, pharmaceutical or food industries.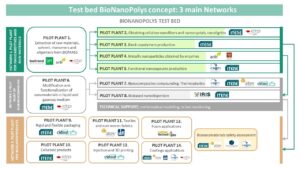 The Single Entry Point to make use of the Bionanopolys services
The Bionanopolys network consists of 27 partners from all over Europe. In order to get the best possible options and to be able to use the services as efficiently as possible, a single entry point is being set up as part of the project. Through this SEP, all Bionanopolys Pilot Plants and services can be accessed. An initial test phase will be initiated during the project, in which potential users can submit their first ideas via an Open Call (tentative opening date: January 2023).
You are interested in the open call procedure and want to have a deeper look into the Bionanopolys networks, pilot plants and services? Join us at the Bionanopolys events (eg national stakeholder events), subscribe for our newsletter and follow us on social media (Facebook, Linkedin, or Twitter).