BioReCer – Biological Resources Certifications Schemes
Within this approach, the added value, the use, as well as social acceptance of bioproducts will be increased.
BIORECER will assess the impact of current and adapted certification schemes on consumers and bio-based industries stakeholders' WTP along with industries and consumers' acceptance of new bio-value chains from biological feedstocks, including residual feedstock and waste.
The project proposes first to design and develop a multidimensional framework to analyze and define the assessment of the environmental performance of biological resources and traceability that will be subsequently validated in 4 full bio-based systems and applicable to a wide range of bio-based value chains. This approach will be unfolded by the joint creation of two levels of interaction: a physical one through the creation of a BioResources Stakeholders Platform (BRSP) and a "digital" one through a BIORECER ICT tool (BIT) to amplify the "scope" of the project.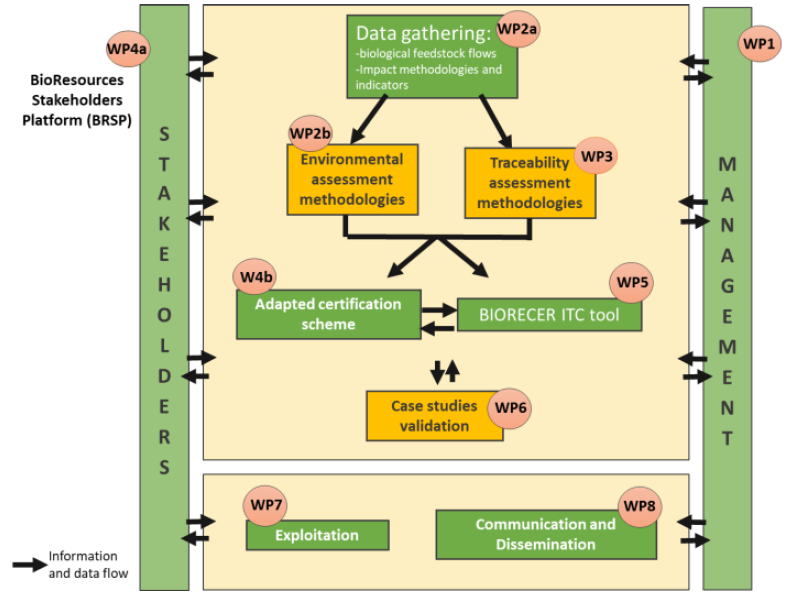 Project Coordinator
Project Partners
Universita' degli Studi di Roma UNITELMA Sapienza, Italy
Universidad de Santiago de Compostela, Spain
UNI - Ente Italiano di Normazione, Italy
Rise Processum AB, Sweden
Anfaco, Spain
Universita' Politecnica delle Marche, Italy
Meo Carbon Solutions GMBH, Germany
Cap Holding SPA, Italy
Nova Institut, Germany
Spring Sustainable Processes and Resources for Innovation and National Growth, Italy
Easy Global Market SAS, France
Certh, Greece
Associazione Cittadinanza Attiva, Italy
Betania Legio SL, Spain
Brunel University London, United Kingdom